Women's COMPLETE Hair Loss Vitamin
Regular price
$149.95 USD
Regular price
Sale price
$149.95 USD
Unit price
per
Sale
Sold out
The Hair Restoration Institute Women's COMPLETE was clinically developed to help your hair grow stronger, fuller, and faster, and to arrest pattern hair loss in both men and women. It is a 3-in-1 herbal supplement with 8 DHT Fighting ingredients to block dihydrotestosterone (DHT) which can adversely affect your hair follicles and overall hair health. Our unique formula includes the complete nourishment your hair needs to thrive, including a natural marine concentrate (MGC) that is proven safe and effective for all hair types.
What makes this 3 in 1 herbal supplement unique?
-8 DHT fighting ingredients
-Complete Hair Nutritional
-MGC™ (Marine Complex)
This product was developed by our team of physicians and medical personnel, including a Trichologist, a medical technologist and nurse, one of the worlds largest nutritional companies, and a large International Hair Loss and Hair Care Manufacturer. Utilizing data from hundreds of national and international clinical studies and our thousands of patients in the USA and Europe, we formulated one product with all of the best DHT fighting ingredients and essential vitamins, minerals and nutraceuticals for hair thinning and balding. We then added our own key ingredients:
Saw Palmetto Berry Extract: Saw palmetto has been proven to inhibit DHT. While other products claim to provide 200mg of some sort of saw palmetto, our product contains the highest level of sterols available in any tablet – 500mg of saw palmetto berry extract. In AA Plus, the saw palmetto is ground even finer, for better absorption
Other DHT blockers and nutrients: Grape seed extract increases blood flow to the dermal papilla (where your hair grows). Pygeum bark, green tea, stinging nettle, and ho shu wu have been shown to help fight DHT. We have also added biotin, folate, pantothenic acid, sulfur, zinc, iodine, selenium, copper and manganese.
How it works:

1. HRI Complete binds to Androgen receptors in order to block DHT from binding to Androgen receptors (which thinks and kills hair).
2. By decreasing the number of Androgen Receptors bound to DHT, HRI Complete Plus enables your hair to return to a more robust cycle of growth.
3.  With less DHT infected follicles, your hair has more opportunities to grow healthy.  Thinning hair will become thicker, and dormant hair can begin to regrow.
For those with shellfish allergies or those who are zinc intolerant, we recommend our AA Plus.
AA Plus contains nearly the same active ingredients of HRI Complete, but leaves out the marine concentrate for those with shellfish allergies. We have also left out zinc as zinc can cause stomach upset.
Share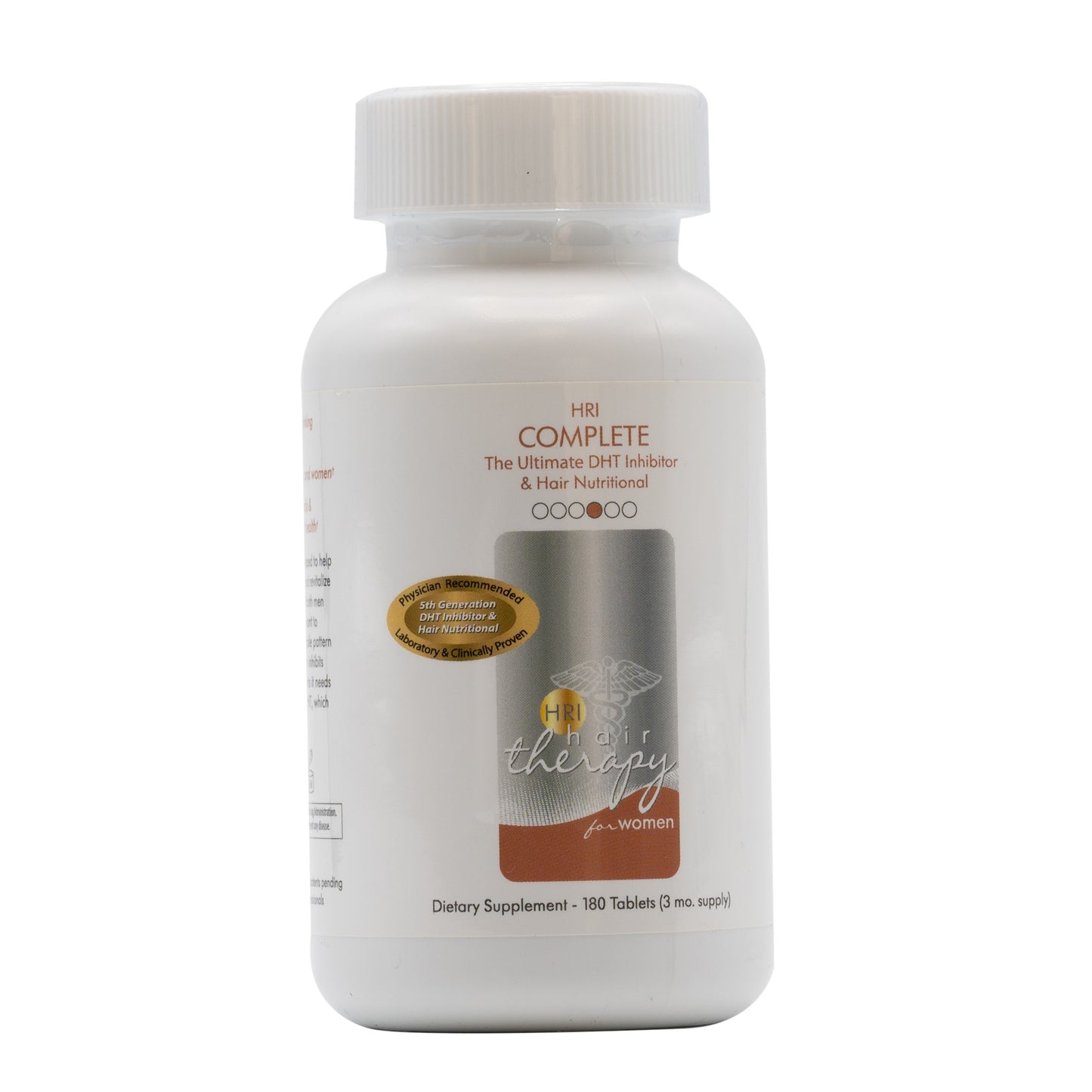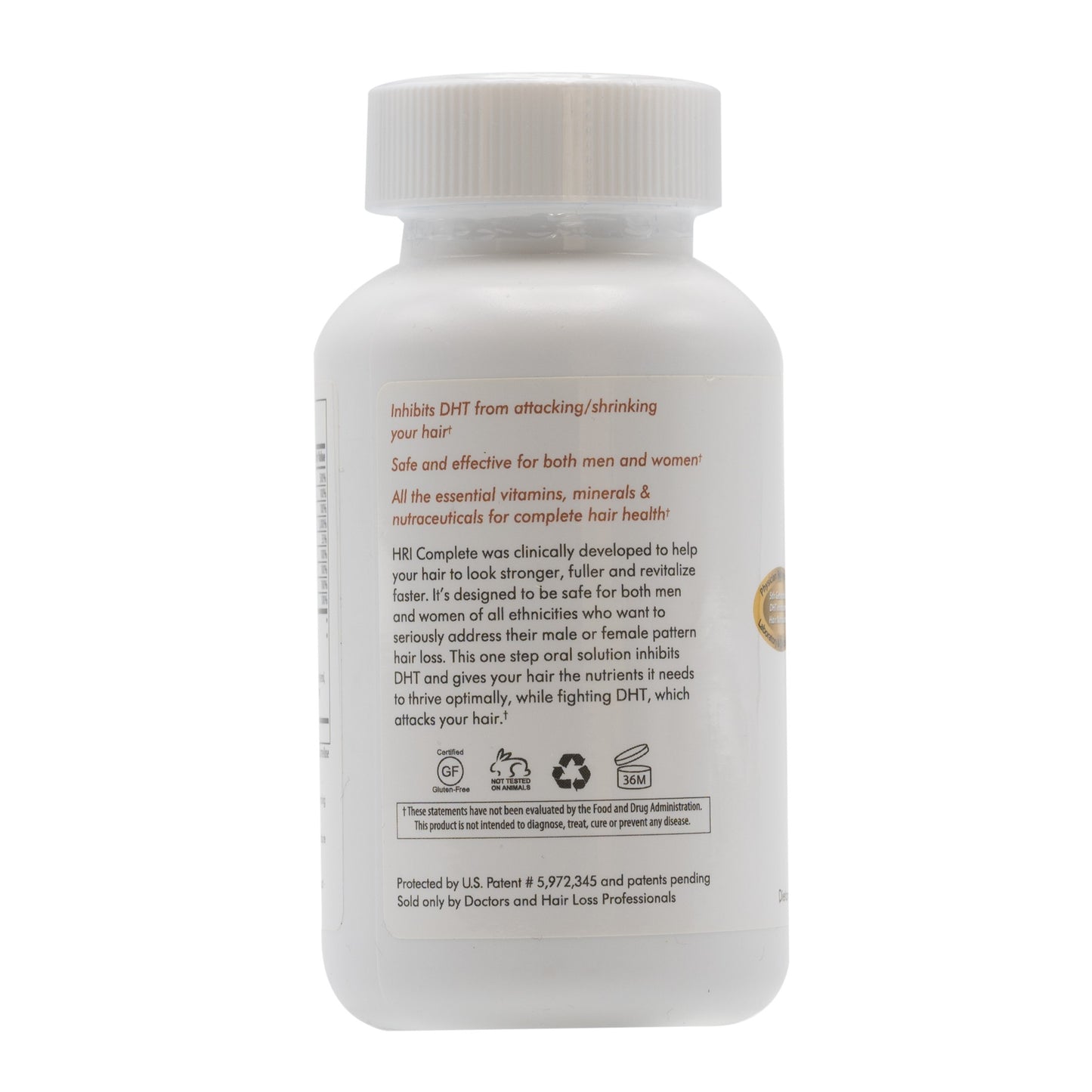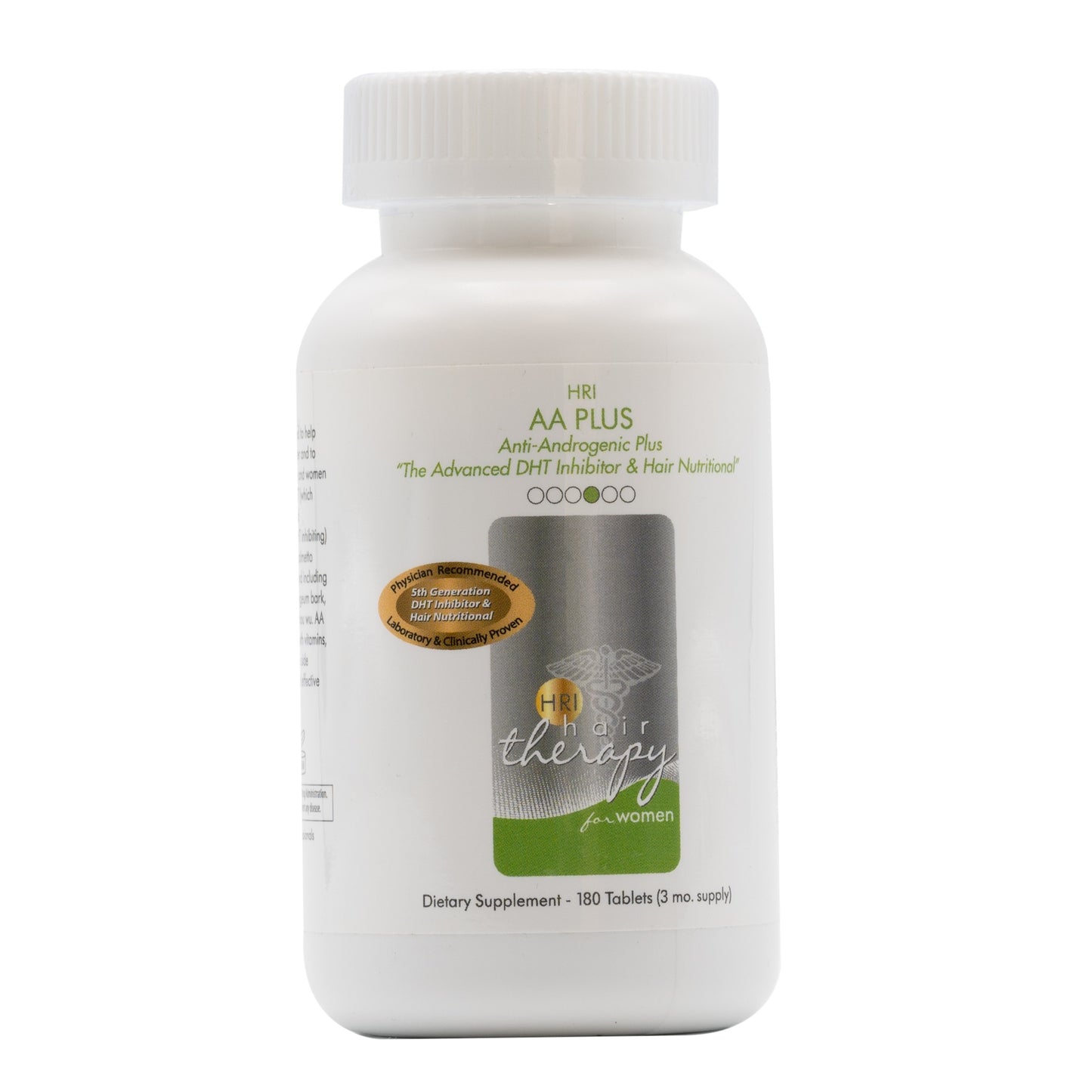 Free shipping on orders $50+